×
Sign Up For These Benefits
Get most recent daily updates
Save your favorite listings in one place
Save your search criteria
Share listings with friends easialy
Already a Member?

Login below
Building Spotlight: Harbor Garage Project
July 10th, 2014
Earlier, Century 21 Cityside blogged about the Christian Science Plaza Tower project, the 699 foot luxury hotel and condo building.  Recently, developer Don Chiofaro has unveiled his new plan to build the Harbor Garage Project, two towers standing 600 and 500 feet tall above the Harbor Garage by the Waterfront. Chiofaro would demolish the current Harbor Garage and move the nearly 1,400 parking spaces underground.
The project, long hindered by the Menino administration, has gained its momentum when Mayor Marty Walsh stated that he was open to the idea of having the skyscrapers in Boston.  Located close to the New England Aquarium, the proposed Harbor Garage Project towers would contain 700,000 square feet of office space; a luxury hotel with between 250 and 300 rooms; 120 condos; three levels of retail and restaurants; and 1,400 parking spaces, totaling a whopping 1,300,000 square feet. Additionally, Chiofaro is planning on building "Harbor Square", which would include a retractable roof to accommodate for all four seasons, meaning that in the winter, there would be enough room to hold the Rockefeller Center ice rink.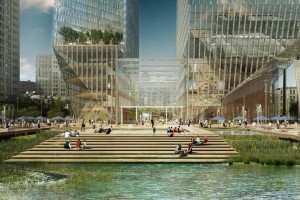 The Harbor Garage Towers will be situated minutes away from Boston's famous North End, where you can enjoy the many Italian restaurants and bakeries.  Grab an authentic gourmet Italian dinner, and finish off the night with a cannoli from Mike's Pastry. Bring the kids to one of the many festivals held in the North End; it's fun for the whole family!
Check out the Harbor Garage Project.