×
Sign Up For These Benefits
Get most recent daily updates
Save your favorite listings in one place
Save your search criteria
Share listings with friends easialy
Already a Member?

Login below
5 Tallest Residential Buildings | Boston
5 Tallest Residential Buildings | Boston
January 3rd, 2020
Over the last few years, Boston has seen a dramatic shift in the planning and construction of some of its tallest residential buildings. The increase in these buildings is a testament to Boston's economic growth and development as a city. Here are the current and projected 5 tallest residential buildings in the city of Boston.
1. Winthrop Center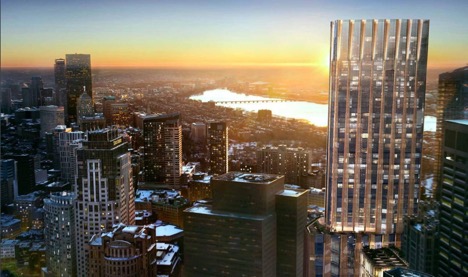 This skyscraper will be the tallest residential building, standing at 691 feet and having 53 floors, it is anticipated to be done on March 31st, 2022. The Winthrop Center will be located in the Financial District of Boston, MA. The Winthrop Center will include almost 400 condominiums and be the world's largest Passive House Office Project meaning the building will "reduce energy consumption by 65% of the Boston Average" and "will reduce water use by 40% saving 1.8 million gallons of water per year".
2. Millennium Tower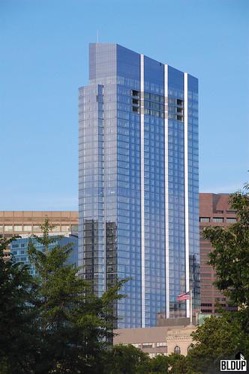 This residential building was completed on June 1st, 2016 and stands at an astonishing 685 feet. The Skyscraper has 60 floors and is located at Downtown Crossing. Millennium Tower places elevated attention towards residents' customization. The Tower partnered with Christopher Peacock, a custom furniture and cabinet designer who worked with President Clinton, to personally handcraft your kitchen and bathroom. Furthermore, the Burnham Building is adjacent to the Millennium Tower and it serves as a retail space for the Millennium Tower residents to shop at stores such as Primark, Roche Bros, and Caffe Nero.
3. Bulfinch Crossing Residential Tower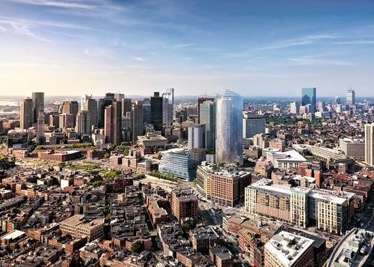 Bulfinch Crossing Residential Tower is not complete yet; it is planned to be done by September 1st, 2020 but the building is architecturally topped out. What this means is the tower has reached its full height but the full construction of each floor is not complete yet. The residential tower will stand at 528 feet with 45 floors and be located in the West End of Boston. In total, this skyscraper will have 800+ residences and 200 hotel rooms. One of the tower's strong points is it will have a total of over 1 million square feet of retail space use.
4. The Hub on Causeway Residential and Hotel Tower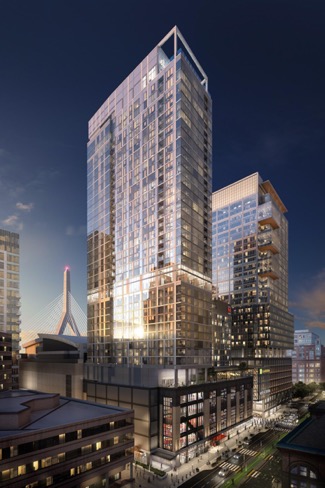 Another luxury residence that is not fully complete but is architecturally topped out is The Hub on Causeway Residential and Hotel Tower. This tower is 498 feet tall, contains 38 floors, and is a mixed-use building. It will contain retail space, housing, office, and even hotel rooms. Interestingly, this new skyscraper will include a new entrance to the TD Banknorth Garden when it is complete and 500+ new parking garage spaces.
5. Avalon North Station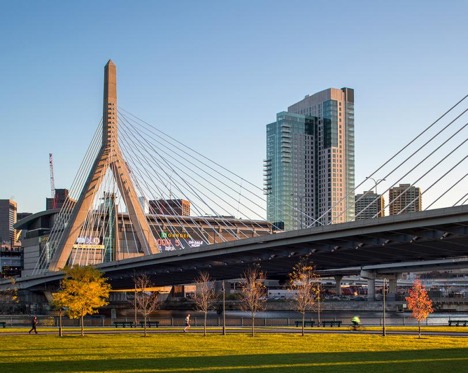 Another fully completed building on this list is Avalon North Station. This residence is at a prime location within the North End and is in close proximity to TD Banknorth Garden. The tower stands at 415 feet and has 38 floors. It has just over 500 luxury residences ranging from studio apartments to 3 bedroom apartments. The residence has 200+ parking spots as well as a public pedestrian mall. While this is not the tallest residential building; it provides the amenities needed for a luxurious lifestyle.
Boston has a lot to offer when it comes to luxurious apartments and condominiums. These high rising towers give people the opportunity to see great views and enjoy even better amenities in their dream homes. If you have any questions or want to learn about these residences please call 617-262-2600 or email Jordan.Bray@C21.com
Sources:
https://www.businesswire.com/news/home/20181025005017/en/Boston-Celebrates-Groundbreaking-MP-Boston%E2%80%99s-Winthrop-Center
https://www.bldup.com/projects/government-center-garage